Discover more from Charlotte's Book
All the things about life your friends won't tell you. Funny. But not funny. But true.
Over 12,000 subscribers
Skincare Devices Part 3: Cleansing Brushes
If you have one and only one techy skincare gadget, it's probably an ultrasonic cleansing brush. In case you missed the boat, these electric brushes use sonic frequency to cleanse the skin more throughly than possible with your bare hands. And that gentle extra exfoliation is paramount: By the time you're 25 years old, your skin's natural rate of exfoliation begins to slow down, explains New York City celebrity aesthetician Georgia Louise, whose clients include Katy Perry and Linda Evangelista. "To really stay young, you have to exfoliate your skin religiously. Using fun interesting gadgets will help you stick to a regimen," she explains. Buyer beware: Don't invest in an electric cleansing brush if you have severe acne, as the exfoliation can further inflame your skin. Now that dozens of companies have jumped on the vibrating facial brush boat, it's hard to tell which are worthwhile and which are copycats. Here are three standout cleansing brushes that we're excited about:
Related Read: Skincare Devices Part 1: LED Acne Treatments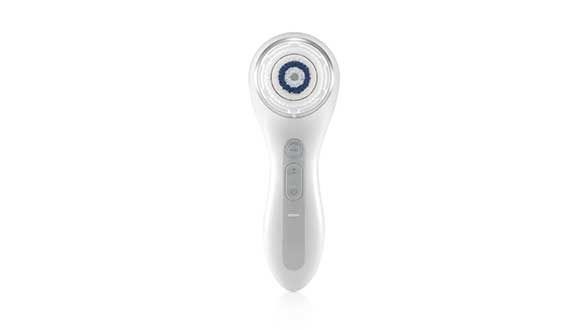 Clarisonic Smart Profile Distinguishing Factors: This newest cleansing brush from the company that started the craze, the Smart Profile comes with two brush heads—one for face and one for body. It uses radio-frequency identification technology to detect the needs of your skin, automatically adjusting between gentle and deep modes while cleansing. The brush has four speeds (Delicate, Universal Cleansing, Powerful Cleansing and Prescriptive Cleansing) and a turbo mode that allows you to temporarily boost the power at any point in the cycle. Price and Availability: $265 at clarisonic.com How to Use It: Remove eye makeup, then apply cleanser to damp skin or directly to the brush head. Select a speed, then follow the T-Timer prompts while moving the brush in circular motions. Recommended intervals are 20 seconds on the forehead, 20 seconds on the nose and chin, and 10 seconds on each cheek. Keep the brush flush to the skin without pressing too hard, or it will hamper the vibrations and reduce effectiveness.
Related Read: Skincare Devices Part 2: Skin-Firming Microcurrent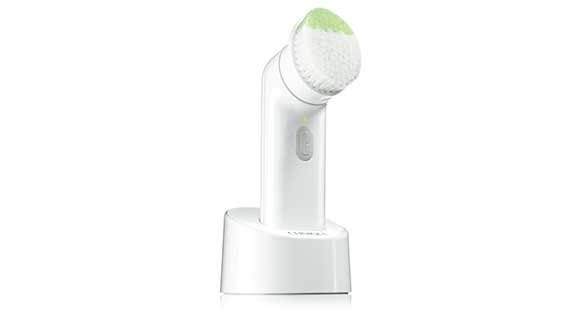 Clinique Sonic System Purifying Cleansing Brush  Distinguishing Factors: This brush is designed with two kinds of round bristles for targeted cleansing: the green, angled tips get into the nooks and crannies of the T-zone, while the shorter, flatter white bristles gently cleanse and exfoliate larger, flatter and more delicate areas like your cheeks and forehead. A self-timer automatically turns the brush off after 30 seconds so you can't overdo it, and anti-microbial technology helps keep the bristles clean in case you don't get to replace the brush head every three months, as recommended. We also like that the entire gadget is sleek and slender, making it our best pick for travel. Price and Availability: $89.50 at clinique.com How to Use It: Remove makeup, then apply cleanser to damp skin or directly to the brush head. When cleansing your cheeks, forehead and chin, use circular motions, then switch to up and down movements for the T-zone area. Start with 30 seconds once a day, building up to one minute twice daily.
Related Read: Saving Face: 6 Stylish Sunglasses To Prevent Crow's Feet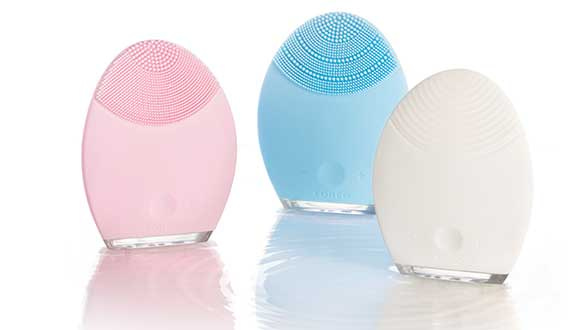 Foreo LUNA Distinguishing Factors: A cleansing brush without any bristles? Yup. This unique device is made of silicone. It fits snugly in the palm of your hand and has two sides with different functions: the cleansing side has non-abrasive touch points for daily use, while the ribbed anti-aging side delivers low frequency pulsations to smooth the appearance of fine lines and wrinkles. And no bristles means not having to buy replacement brushes—the nonporous silicone is resistant to bacteria buildup. The LUNA has eight speeds and comes in three modes (and fun colors) tailored to specific skin types: pink is for normal/sensitive skin with smaller touch points; white has a wave of ridges for the ultra-sensitive skin; and blue has a mix of small and large touch points for the stronger cleansing of oily patches on combination skin. Price and Availability: $199 at foreo.com. [Or you can try the LUNA Luxe that has an 18-karat solid gold base for $6,500.] How to Use It: Remove makeup, then apply your cleanser all over your face. Turn the LUNA on, dampen in, then massage over your skin. The device will pause after 15 seconds, so you know when to move from one area to the next. Once you've cleansed your entire face, rinse, then massage the wrinkle-reducing side of the device over wrinkle-prone areas. The entire routine should take about two minutes.