Discover more from Charlotte's Book
All the things about life your friends won't tell you. Funny. But not funny. But true.
Over 12,000 subscribers
Skyn ICELAND's New Micellar Cleansing Water Is Made With Icelandic Glacial Water And Arctic Algae
I'll be honest. The first time I heard of micellar water, I thought it was a new flavored water (à la LaCroix). To my surprise, not only is it not a drink, it isn't even new. Frenchwomen have reportedly been using it as a facial cleanser for a hundred years, and it's made its way to our shores much more recently. Made of molecules called micelles that attach to dirt, oil, and grime, micellar water cleans your skin without harming or drying it out. There's no rinsing or soap involved. CB's own Robin Shobin was wary about cleansing her face without water or soap, so it took her a while to get into micellar water. "Now I can't live without it," she says. " It's GREAT for lazy nights because for some reason, using a cotton ball to swipe my face clean is easier than splashing water on my face. This stuff literally gets every last bit of dirt off your face, without leaving your skin feeling stripped. " Skyn ICELAND, the skincare line that specializes in stress-related skin issues, just launched its own Micellar Cleansing Water. And its unique formula makes it gentle and hydrating.
What's it all about?
Like all of skyn ICELAND's products, the natural wonders and calm, clean environs of Iceland inspired the Micellar Cleansing Water with Arctic Algae. The cleanser's mild formula is easy on the skin and offers a nurturing alternative to more traditional cleansers. It doesn't disturb the skin's pH balance or irritate your face. What it does do is dissolve impurities, unclog pores, and hydrate. So whether you have dry or sensitive skin, or are prone to acne, there's no need to worry. CB's Danielle Huthart has been using the Micellar Cleansing Water and she loves it. "It definitely gets rid of end-of-day grime and buildup. It's very refreshing and doesn't seem to dry out my skin," Danielle says.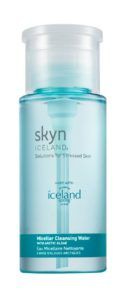 What's in it?
The Cleansing Water is made with Icelandic Glacial Water, of course. And in it you'll find minerals like calcium, magnesium, and sodium, which protect and nourish your skin. Some other notable ingredients include: Arctic algae extract, which has detoxifying properties and quenches the skin. This means glowing, hydrated skin. Nordic birch sap, which revitalizes skin with its bioactive sugars and minerals. Aloe leaf juice, for its anti-inflammatory properties and vitamins, which heal irritated skin.
How do you use it?
It's as simple as you want your makeup removal/cleansing/moisturizing process to be. Just pump the Cleansing Water onto a cotton pad, and sweep over your face. That's it. No rinsing required. Your face is left makeup-free and clean. And your skin will be so nourished and hydrated that you might just skip the moisturizer and head straight to bed.
Where can you buy it?
You can buy skyn ICELAND's Micellar Cleansing Water at Ulta or on Amazon, for $25. Image via skyn ICELAND.
READ THIS NEXT
These are the most common skincare mistakes, according to an esthetician. We talked to skyn ICELAND founder Sarah Kugelman about her own beauty and wellness routines.
FIND BEAUTY AND WELLNESS EXPERTS
 Read client reviews, book appointments, and get expert advice. Only the best cosmetic doctors, skincare gurus, nutritionists, fitness and wellness professionals make it into our book.