Discover more from Charlotte's Book
All the things about life your friends won't tell you. Funny. But not funny. But true.
Over 12,000 subscribers
I Tried It: A Trifecta Of Lasers To Get Rid Of Sunspots, Freckles, And Visible Veins
Over the years, I've racked up my share of sunspots, and have also become increasingly aware of the fine lines that look like they've taken permanent residence on my face. With a 30s close-out party soon approaching, and nearly ten years into motherhood, I decided it was time to prioritize things that make me feel good. I'd been curious about improving my skin with lasers, especially ones with minimal downtime. I was lucky enough to undergo a series of treatments using three different lasers, with Charlotte's Book expert Dr. Jennifer MacGregor, a highly sought-after and respected New York City dermatologist who practices at Union Square Laser Dermatology. Here's a step-by-step of the treatments I received, including my before-and-after pictures!
THE CONSULTATION
During our initial consultation, I took to Dr. MacGregor and her minimally invasive approach immediately. When I  pointed out my sunspots, small red veins, dullness, and freckles, she said, "We're not trying to erase what makes you, you."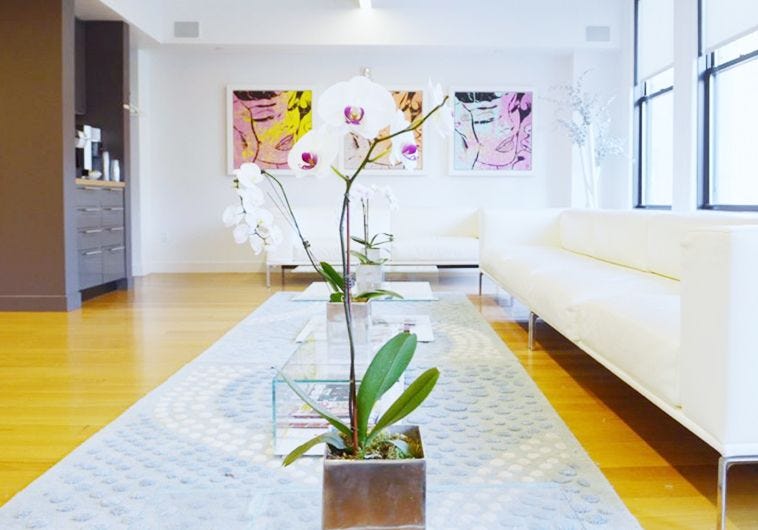 She then advised me on the best approach to treat my skin. Her first step? A session with Cutera's excel V laser to tackle the small blood vessels below my nose. I also got quite the education on the proper at-home care. I'd thought that I was winning the fight against sun damage with my daily use of a sunblock and hat. But it turns out that my system was ALL wrong since my block didn't contain physical blockers (or mineral sunscreen) like zinc oxide. I left Dr. MacGregor's office not only with a plan to tackle my skincare concerns, but also with the products and how-to I needed to ensure I stayed on track at home.
1. THE CUTERA EXCEL V
I hightailed it back to the beautiful Union Square Laser Dermatology office on a Friday afternoon, very excited to begin my series of treatments. I'd be starting with Cutera's excel V, a precision laser that treats vascular skin conditions and pigmentation. After going over the details of the process with Dr. MacGregor and her helpful team, I was given protective eyewear, and the treatment began. Dr. MacGregor worked her magic with the excel V, and after a few super quick zaps, the area around my nose was done. I didn't find the treatment to be very painful, although my head twitched a tiny bit with each pass of the laser. Dr. MacGregor made sure to continually check on my comfort level—and before I knew it, I had soothing ice packs applied to calm any post-procedure irritation. When I got home, I examined my face under our bright bathroom lights. Those tiny red blood vessels that had never bothered me too terribly (but still always gave me the urge to dab concealer under my nose) were gone. Yes, GONE! And I couldn't believe the overall improvement I saw and felt now that they weren't there anymore. One excel V laser session with my favorite new doctor and—instant gratification! I continue to be so pleased with the overall self-esteem boost that comes with zapping away a few red squiggly lines.
2. CLEAR + BRILLIANT PERMEA LASER
Soon it was time for the second part of my trifecta of laser treatments, the Clear + Brilliant Perméa laser. This is a non-ablative laser that stimulates collagen growth and produces an overall brighter complexion, smoother texture, and even color. Often called "baby Fraxel", it's super popular since it has little to no downtime. Dr.MacGregor commonly uses this laser pre-weddings and on patients requesting fantastic skin for a specific event. She recommends it three weeks before an important event, with a series of sessions based on specific need. I had two sessions scheduled several weeks apart. During my first session, Dr. MacGregor applied a numbing cream to my face, and then went over it with the Perméa laser. I felt a warm sensation, but it wasn't painful at all. After she was done, I looked at my face and it wasn't as red as I'd expected it to be. My skin was then treated with SkinCeuticals CE Ferulic, and sunscreen before I left the office. I could have put on makeup right away but chose to hop on the subway make-up free after all of my appointments.  I actually really liked the post-treatment feel of the numbing cream and slightly hot face. (Call me strange—I hear that most don't care for the numbing cream sensation!) During the days-post treatment, my skin was dry and a bit rough but not peeling. If anything, I noticed the dryness around my crows feet until I woke up to glowing skin a week after my treatments. Even though Dr. MacGregor recommends this treatment three weeks before a big event, I found the sweet spot at the one-week mark.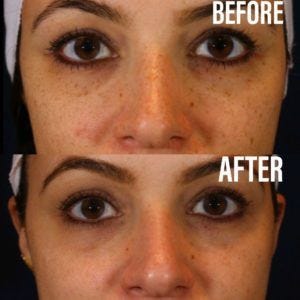 3. ALEX TRIVANTAGE LASER
During my initial consult, Dr. MacGregor discussed the possibility that I'd need a stronger laser than the Clear + Brilliant to remove a few stubborn sunspots. That's where the Alex TriVantage Laser comes in. It's used to treat sunspots, freckles, and age spots. Dr. MacGregor made sure to leave the natural-looking freckles on my nose. But the spots that appeared in my late thirties, including the ones in my under-eye area and several on my cheeks—they were miraculously removed. This laser wasn't painful, but it does require downtime to heal completely. When I left the office, my sunspots were raised, swollen, and angry! I noticed women on the train looking at me, and it was hard to not overshare my excitement about my laser treatments with total strangers. During the next few days, the spots became darker and more pronounced before flaking off. It looked like I had tiny flakes of mascara on parts of my face. As the spots began to lighten, I couldn't believe the overall improvement in my skin.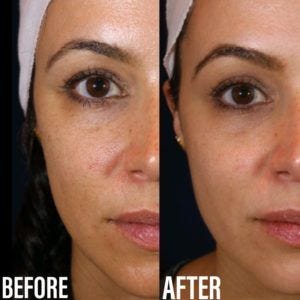 To say I'm thrilled with the results is an understatement. Without the sunspots, my face looks healthier. I've also noticed a significant improvement in my skin's texture and complexion, as well as the lines around my eyes. I'm still the same me, but with much better skin!
Here's what I learned
Don't go for the Groupon special. These lasers require protective eyewear, numbing cream, and sometimes recovery time. Some of the sunspots targeted with the powerful Alex TriVantage laser were just centimeters away from my eyes. I can't imagine undergoing medical treatments like these with anyone other than a sought-after expert. Laser treatments are not the time to go for a non-reputable bargain. Save that for a hobby class! Choose your provider wisely. It's important to see a highly-skilled provider to customize the right treatment plan. Dr. MacGregor closely examined the photos taken before each session in addition to my skin to tailor my treatments with specific lasers. If I went for a Clear + Brilliant-only package from another provider, my outcome would not have been the same. Union Square Laser Dermatology employs the latest medical technology, including the newest lasers and energy devices catered and adjusted to each patient. Dr. MacGregor also set me on the right at-home skincare path, which is an essential part of the process. Think hard about your desired outcome. While a trip to a posh spa may leave me feeling relaxed, a lovely facial has never provided me with any sort of lasting results. For me, lasers are effective and are a much smarter investment. I went into these treatments with a solid understanding of both the procedures I was signing up for, and the outcomes I wanted. It's important to know what your skincare goals are, and to plan accordingly. This post was originally written by Monica Marino for MarinoBambinos.com. It was edited and adapted for Charlotte's Book.   
READ THIS NEXT
Here's how you should prep for a skin treatment. Get the ins and outs of Clear + Brilliant, and one woman's experience with it.
CONSULT WITH DR. JENNIFER MACGREGOR #IRL
Read more about Dr. Jennifer MacGregor. Check out client reviews, book priority appointments, and get Dr. MacGregor's expert advice in person.