Discover more from Charlotte's Book
All the things about life your friends won't tell you. Funny. But not funny. But true.
Over 12,000 subscribers
I'd Buy It Again: I'm In Love With The Susanne Kaufmann Eye Cream Line T
In our line of work, we try a lot of products. That means we know what we love and why. I'd Buy It Again is a quick and dirty way to tell you about something we've tried and all the reasons we love it. These are never sponsored posts—only honest opinions inspired by our obsessions. This time around, we're talking about Susanne Kaufmann's Eye Cream Line T.
What is it?
It's a very, very hydrating eye cream.
What's the story?
Susanne Kaufmann grew up in the Bregenzerwald, a picturesque valley and sought-after beauty and wellness destination nestled in the Austrian Alps. A fifth-generation member of a family of hoteliers, she took over the family hotel at the age of 23. Then Susanne embarked on a mission to create a modern wellness destination rooted in the power of nature. Her first creation was a spa where clients could come for signature beauty treatments. In order to offer her clients high-end, nature-based, efficacious treatments, she created a range of beauty products. When clients began to ask for products they could take with them, Susanne's luxurious product line was born.  
What's the bottom line?
I've been searching for an eye cream that I actually feel makes a difference. I've finally found it! I'm officially in love.
Who's it for?
This cream is for anyone looking for a super nourishing, ultra-rich, über hydrating eye cream. If you're looking for intense hydration around your eyes, this product is for you.
How do I use it?
This cream is on the heavier side so I only use it at night. You don't need much, either. I gently tap it around my eyes. It can also be used as an eye mask, if you prefer.
What are the ingredients?
It's made with plant-based hyaluronic acids that provide tons of moisture, plus a combination of oils including coconut, rose hip, evening primrose, and broccoli seed. Sage, yarrow, and marshmallow extracts also add to the soothing property of the cream.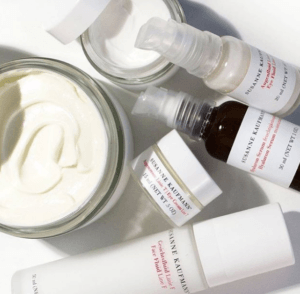 How does it smell?
There's no smell.
How long did I test it for?
I tested the cream for four weeks.
Any drawbacks?
Honestly, not really. I could see how some people might find it too heavy. But I truly love the feel of the cream and its super hydrating effects. You need just a little dab at night.
Would I buy this again?
Full disclosure: I was given this eye cream to test. But also in full disclosure: I had no idea how glorious this eye cream would be. Now that I've tried it, I would definitely buy it.
Where can you buy it?
You can get the Susanne Kaufmann Eye Cream Line T at Credo Beauty for $73. Images in article are from Susanne Kaufmann's Instagram  
Read This Next
Robin also reviewed Drunk Elephant's new D-Bronzi self-tanner. Plus, the probiotic shooter that tastes just like a pixie stick!
Find Beauty And Wellness Experts
Read client reviews, book appointments, and get advice from the experts in Charlotte's Book. Only the best cosmetic doctors, skincare gurus, nutritionists, and fitness and wellness professionals make it into our book.