Discover more from Charlotte's Book
All the things about life your friends won't tell you. Funny. But not funny. But true.
Over 12,000 subscribers
I'd Buy It Again: Tata Harper Resurfacing Mask Review
In our line of work, we try a lot of products: that means we know what we love, and why. I'd Buy It Again is a quick and dirty way to tell you about something we've tried and all the reasons we love it. These are never sponsored posts—only honest opinions inspired by our obsessions. This time around, we're talking about the Tata Harper Resurfacing Mask.
WHAT IS IT?
This mask is a beta-hydroxy treatment that promises radiant glow.
WHAT'S THE BOTTOM LINE?
This mask does what is says. After trying it once, I was hooked. Hooked enough to call my friend Robin Shobin and tell her that Charlotte's Book needed to write about it. If you're looking for an instant results mask—this is it.
WHO'S IT FOR?
The all-natural ingredients make this mask suitable for all skin types. Botanical enzymes like antioxidant-rich beet extract promotes hydration and boosts glow, while willow bark and meadowsweet gently slough off dead skin. The mask is ideal for those with sensitive skin.
WHAT'S THE STORY?
Inspired by her hometown of Barranquilla, Colombia and her adopted home of Vermont, Tata Harper's mission is to create luxurious, effective skincare free of synthetic ingredients. All of the ingredients in this mask are of natural origin and almost 85% is from organic farming.
WHAT ARE THE INGREDIENTS?
The mask contains: + Pomegranate Enzymes to provide complete cleansing, helping the skin appear fresh and healthy. + Pink Clay, which helps reduce pore size appearance and remove surface impurities without stripping the skin. + Beet Extract to promote hydration on the surface of the skin, in order to improve skin tone. + Willow Bark and Meadowsweet, natural sources of beta-hydroxy acid that help promote a more radiant complexion.
HOW DOES IT SMELL?
It's a totally neutral non-scent, which I appreciate!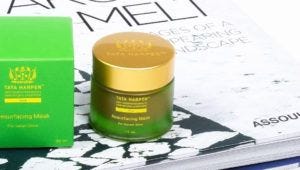 HOW DO I USE IT?
I spread a thick layer of the mask all over my face and it went on almost clear—so not scary looking! I left it on for 20ish minutes (directions say 20-30) and felt it dry, but it wasn't flaky or crumbly. Then I washed it off in the shower.
HOW LONG DID I TEST IT FOR?
I had a sample (thanks, Sephora) so I did one application. I liked it enough to order the full-sized product so I can add it to my Sunday self-care regimen!
WHAT'S GOOD ABOUT IT?
It went on smoothly and felt clean. It didn't feel tight or drying while it was on and my skin feels extra-clean and soft afterward. I'm not sure about "radiant", but it feels really good. The sample I had was more than enough, so I expect the full-sized product I ordered will give decent bang for the buck.
ANY DRAWBACKS?
Nope!
WOULD I BUY THIS AGAIN?
Already ordered!
WHERE CAN YOU BUY IT?
You can buy it at Sephora, NET-A-PORTER, or SpaceNK for $58. Images via Tata Harper's Instagram
READ THIS NEXT
Check out CB Founder Robin's review of Nucifera's The Balm. Plus, an esthetician's winter skincare routine and favorite products.
FIND BEAUTY AND WELLNESS EXPERTS
Read client reviews, book appointments, and get advice from the experts in Charlotte's Book. Only the best cosmetic doctors, skincare gurus, nutritionists, and fitness and wellness professionals make it into our book.