Discover more from Charlotte's Book
All the things about life your friends won't tell you. Funny. But not funny. But true.
Over 12,000 subscribers
Top 5 Under the Radar Beauty Instagrams
Any tech savvy beauty knows that there's an abundance of expert information and inspiration to be found on social media sites. You just have to do the digging. With a photo based format, Instagram in particular, can be an illusive app to navigate, even for those in-the-know. To save you from endless hours of perusing cat-grams and your best friends vacation pics without aim, here are our top five picks for the most informative (and the most fun to follow!) skincare and beauty Instagram accounts:
1. Shani Darden, Aka shanidarden Shani Darden is the go to facial guru of LA Hollywood celebs and supermodels (see above for a snapshot of Shani with loyal client and compadre Jessica Alba). Her extremely personalized approach to clients has won her the recognition and ardent praise of the most photographed women in the entertainment industry.
Shani is also a big proponent of diet as an essential element of a well-rounded skincare routine. It's not surprising that Chrissy Teigen, known for her Deluscious foodie ways, frequents Shani's Beverly Hills location. On her Instagram, find fun selfies of Shani and some of her most gorgeous clients like Teigen and Alba. As a big believer in the power of products, Shani also highlights her most favored skincare essentials, which you should Remember, there's no more reliable anti-aging remedy than a dedicated retinol routine.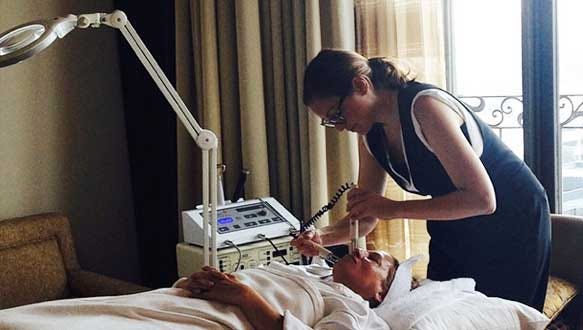 2. Georgia Louise, Aka georgialouisesk One of New York's most coveted facialists is also the proprietor of one of Instagram's most popular, all-skincare accounts. Also well known for her star studded rolodex, Georgia Louise gives East Coast celebrities and the most demanding New Yorkers, alike, a facial experience like no other, incorporating the latest cutting-edge technologies with some of the best TLC in the biz.
Her Instagram is a testament to the legions of fans that Georgia has won with her signature skincare style. Nicknamed the "Cosmic Facialist to the A-listers" by New York Times Magazine, Georgia posts amusing pics of her upscale clientele, sporting post-facial glow. Beyond celeb sightings, followers can find all-natural product recommendations from one of the most well respected skincare experts in the industry. Get a sneak peak into Georgia's famous Eastern influenced techniques and specialty Life & Sculpt massage. And, be inspired by thoughtful quotes from this talented skincare guru with a heart of gold.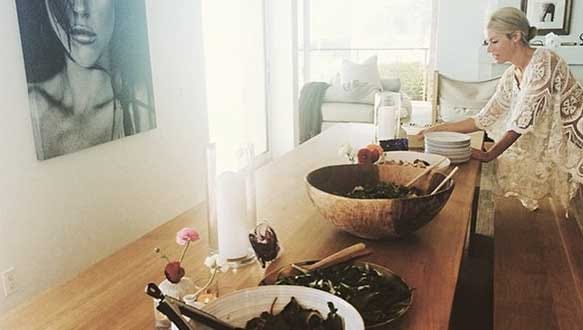 3. Dana James, Aka danajames Charlotte's Book Advisor and founder of nutrition and lifestyle brand Food Coach NY, Dana James showcases an artful aesthetic with stunning pics of her enviable bicoastal lifestyle. Peer into Dana's Malibu digs and get inspired to create your own nutritional masterpiece, with pictures of beautifully presented and, no doubt, delicious dishes. As a regular contributor to Charlotte's Pages, we're familiar with Dana's feminine, sophisticated style and romance-inspiring recipes. See her not-too-serious style come to life in playful and pretty photos matched with thoughtful reminders. Think: a half-naked pizza-eating pic captioned, "Friday night drinks? Watch the post-booze eating. Sleep instead. You'll feel better when you wake up in the morning." And, did we mention that Dana even posts gorgeous makeup-less selfies. Talk about the power of nutrition!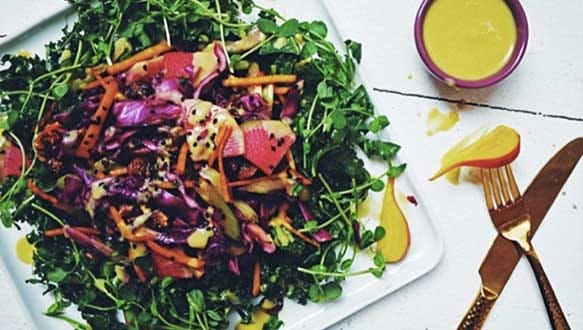 4. Danielle Duboise, Aka danielleatsakara With a tagline like, "I think food should make you feel sexy," the co-founder of vegan home-delivery meal service Sakara Life, Danielle Duboise had us at hello. If you need some convincing, just consider that Sakara Life is the go-to delivery service for Victoria Secret models Lily Aldridge and Karolína Kurková, when they're preparing for the runway. The angels are in good company with healthy food devote, Danielle, who posts sunny selfies of her golden tresses and glowing skin. Jet set with Danielle and pals with snapshots of fun and sun, and be won over by her bubbly smile and the Sakara lifestyle.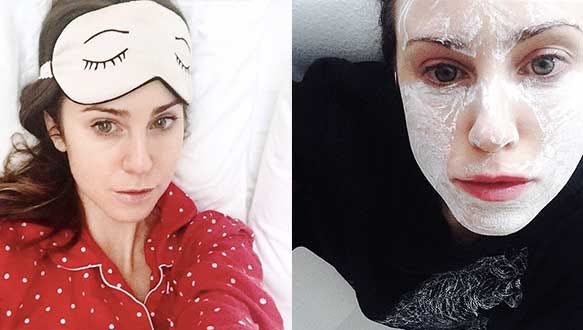 5. Anabel Atkinson, Aka anabel_atkinson This beauty blogger for She's in the Glow literally (yes) glows. Anabel Atkinson is definitely practicing what she preaches, and showing it in unfiltered selfies that pair surprisingly well with cute snapshots of a much younger Anabel. If only we could all be so lucky. Get a fresh and honest take on what works when it comes to everyday skincare, by following Anabel's ever-evolving regime and diet. Recently, she went off chocolate, announcing the move with a barefaced selfie. We've taken notice; and, so have famous natural beauties like Kate Bosworth, who talk shop with the blogger and pose for pics posted in Anabel's simply gorgeous style. For a refreshing departure from the often overdone world of beauty blogging, check out Anabel's no-muss, no-fuss Instagram.
WORDS: Elaina Patton PHOTOS: Shani Darden, Georgia Louise, Dana James, Danielle Duboise, Anabel Atkinson