Discover more from Charlotte's Book
All the things about life your friends won't tell you. Funny. But not funny. But true.
Over 12,000 subscribers
The Crowdsourcing Skincare Phenomenon: Volition Beauty
Ever dream you could be the next Tiffany Masterson of Drunk Elephant? Or the next April Gargiulo of Vintner's Daughter? Always wished you could create a new, custom-designed moisturizer and full of great ideas about what could be the next beauty breakthrough, but you just don't have the time? Now, with just a few clicks and some of those great ideas, you can become the next big thing in skincare. Volition Beauty launched in 2015 with the simple (yet so far, rarely seen) idea to allow consumers to become the producers of their own beauty and skincare products. Voila! That moringa body spray you've always wanted. Invent. Or that marine algae moisturizer you dreamed up from your last trip to the Bahamas. Create. No time for innovation? Vote on your favorite products instead and receive up to 40% off if your selects win. You heard me. Get ready to support your fellow beauty lovers and add to your growing squad of skincare products (hey you're collecting, not hoarding—I believe you). Intrigued? So was I. Charlotte's Book chatted with Volition co-founder Patricia Santos to get an inside scoop on the beauty brand breaking convention that could not only make you the next big thing in skincare - it's bringing innovative ideas in beauty and skincare to life pretty quickly.
Meet The Makers
Patricia Santos and Brandy Hoffman are anything but inexperienced in the world of beauty, management, and product development. After years of being an executive of a high-end skincare brand and running operations for start up companies (Brandy), and helping build management within companies and investing in new brands (Patricia), the two leapt into business together.
Breaking Barriers: The Customer Is Always Right
When building Volition, they decided to nix the barrier between producers and consumers, because after all, the consumer knows best, right? Their goal is to democratize beauty by making it easier for everyday folks to create their dream products, and ensure the success of these products by a voting process.
The Process
Think you have an idea for a beauty or skincare product that could make our lives just a little bit better? The steps are beautifully simple. Submit an idea for a product at Volition Beauty. Once the idea has been approved, you will work with the top experts and labs that partner with Volition Beauty. Quality is important; your prototype will be a blend of creativity, science, and technology. Great news—Volition has also committed to using no harmful chemicals. Now you have a prototype: you're one step closer to your skincare dreams. Next, Volition Beauty lists your product idea on the campaigns section of their site, and now the product is in the hands of the public. Of course, Volition encourages you to create your own following for your innovations through blogging, social media, and any other marketing you can think of! In order for your product to reach consumers, you need to get a certain number of votes for the product. Currently the average number of votes required to launch your idea into production is about 500 to 3000 (depending on manufacturing cost and price point). If you're lucky, here's the next step. Congratulations—you got all the votes! Your prototype is ready to be sold on the website. Not only are you a stunning, magnificent innovator, you also get your name on the inside cover of your product packaging (a little recognition never hurt anyone) and a percentage of the product sales. You're a cool inventor and get money? That's right. Now go get to creating and concocting.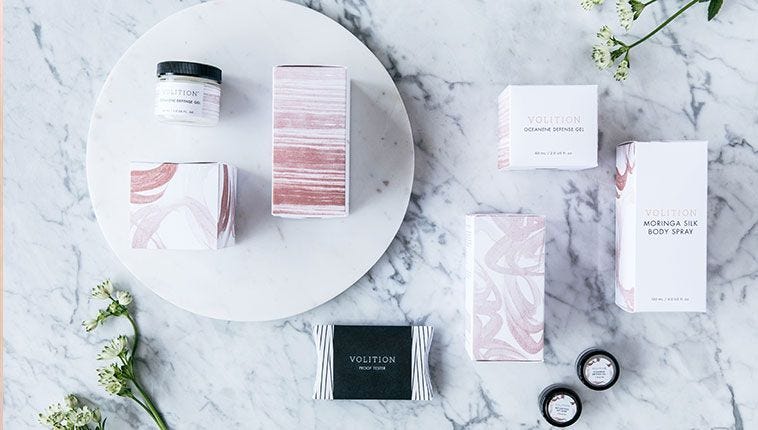 Top-Voted Products
Need inspiration? Patricia talked us through some of the most popular products. Detoxifying Silt Gelée, $60 This cleansing mask is made from Nordic Black Silt and is aimed to detox the skin while also leaving it soft and moisturized. The mask retains the original gel-like texture of silt, so if you hate masks that harden and make it impossible to smile, this is the one for you. Oceanene Defense Gel, $50 Infused with small brown algae from the coast of France, this moisturizer mimics the algae's natural resistance to drying and temperature within its harsh ocean environment. The precise, delicately balanced ingredients in this moisturizer aid in creating a fresher, younger face by reducing signs of wrinkles and lines and infusing the face with moisture.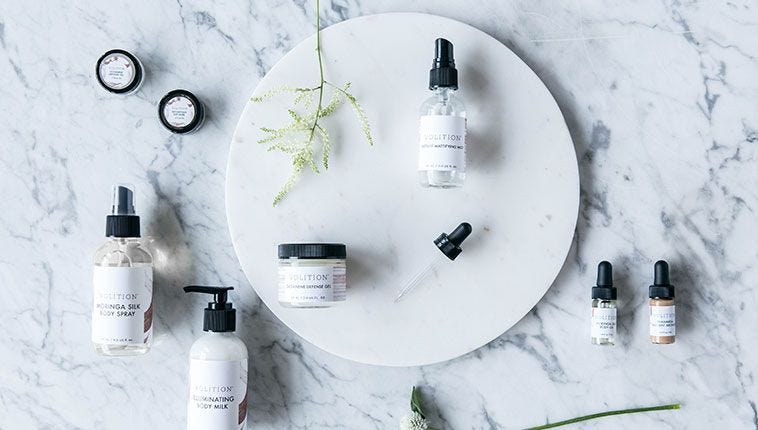 Vote!
I know, I know—not all of you have the time or desire to claim the title of inventor. Instead, contribute to the Volition Beauty community by voting on which products you think should be on the market. Simply go to the discover tab on the Volition Beauty site and read up on the new products that want a place on your countertop. If you like what you see, click Vote! Patricia noted that they "want to reward the people who get behind products early." If you're an early voter, that could mean 40% of the final product.
The Future Of Crowdsourced Beauty
As soon as the site expands, Patricia mentioned "the plan is to take a certain portion of the products that are winning campaigns and then take them into retail." I know many of you will relish the ability to touch and feel the products in a store, but until then, Volition Beauty has an incredible sample policy. Ever order comes with a sample size of the product you purchased. Meaning, you can test out the sample, and if you don't like it for whatever reason, return the product within 30 days after following the return policy on their site. Revolutionary! As for all you inventors: if someone wanted to bring chocolate into the world of beauty, I wouldn't object... wait, has that been done already?
READ MORE
We're serious about skincare + wellness, which means we're serious about anything that can make a difference—including this article about the kegel builder, this one about at-home LED treatments, and this one about exercise and wellness apps that really work.
FIND BEAUTY AND WELLNESS EXPERTS
Read client reviews, book appointments, and get expert advice. Only the best cosmetic doctors, skincare gurus, nutritionists, fitness and wellness professionals make it into our book.